What We Do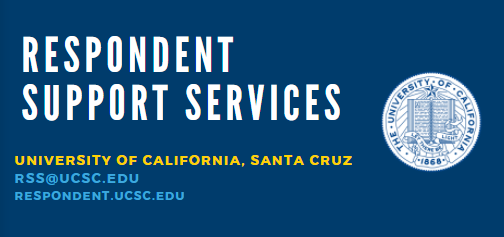 History of Respondent Support Services Program
In January 2015, the UC Presidential Task Force on Sexual Violence recommendations were amended to include a UC-wide requirement that campuses provide equitable respondent services to those accused of sexual violence or misconduct. For more information, please see the Report to the President on page 16.  As a result of this recommendation, each campus in the UC system was mandated to implement Respondent Support Services (RSS) for students, faculty and staff.  RSS provides comprehensive support and assistance to student respondents alleged to have engaged in sexual misconduct (sexual assault, sexual violence, dating/violence, stalking or sexual harassment) or sudent conduct violation.  RSS helps a respondent navigate the complaint, investigation and/or adjudication process, as well as the associative impacts, directly and/or indirectly by referring a respondent to available campus and community resources. 
At the Santa Cruz campus, the responsibility for providing these services for students was originally assigned to the Dean of Students office in October 2015; first by integrating the duties into the Assistant Dean of Students portfolio, and then by integrating the services into the Slug Support case management model. Today, Respondent Support Services is aligned through the Division of Student Affairs and Success divisional office.
What We Do Today
To learn more about RSS and how we support students, please visit our 2019-2020 Annual Report.
Additional Resources
To learn more about Respondent Support Services, please visit the study conducted by NASPA in 2019 titled Expanding the Frame: Institutional Responses to Students Accused of Sexual Misconduct.